Heated Towel Rails
This product can be fitted to a central heating system provided it has been treated with a corrosion inhibitor. If you are unsure if your system had been treated please consult with your plumber.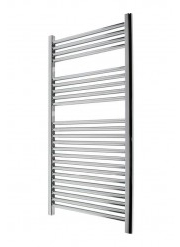 Specification
No moisture left inside before packaging, to eliminate internal corrosion.
Meticulously hand crafted to guarantee the finest quality.
Highly advanced but proven technology chroming plant.
Automated processes to ensure a consistent high quality surface finish.
Nickel and chrome plated for durability and outstanding looks.
Total plating thickness is approximately 50μ.
Products are completely sealed during plating to eliminate chemicals infiltrating the rail.
Tubes
Steel profiles and tubes meet and international standards
Horizontal tubes are 22mm diameter for improved performance
Horizontal tubes are 1.2mm wall thickness for optimum strength and life cycle
Threads are 11mm deep to aid sealing during installation
Individually air tested to 16 bar to guarantee no leaks
D-Profile
D profiles are 1.5mm wall thickness for optimum strength and life cycle.
Deep brazed D profile ends completely eliminate pin holes.
D profile end is closed for easier installation and improved aesthetics